Leather Garment Recolouring
Dyes Vs Pigments, Leather Types and Finishes
Dyes are transparent and do not cover evenly or solid. Dyes are good for a base coat and getting into tricky places such as seams. Pigments cover as can be seen in finished suit.
There is a huge variation of leather types and finishes used in the garment industry and many need specialized cleaning and refinishing.
Most leather used in garments is chromed tanned This should not shrink, stretch or go hard in cleaning process if tanned correctly.
Common Leather Problems
However there are other potential problems when cleaning suede, nubuck or leather garments. At Leathersmiths we have over the years cleaned over 10,000 garments so there is very little that takes us by surprise and we can warn customer of any potential problems that may occur. Here are some common problems:
Mildew Damage to Leather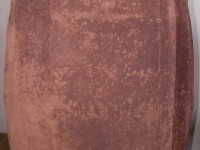 Mildew can eat into suede and nubuck leaving pit marks and discolouring. These marks cannot be covered. Sometimes full extent of mildew damage is not noticeable till after cleaning; we do not charge full price when this happens.
Damage is more likely on sheep skin than pig or cow skin and very rare on a pigmented finished leather
This is a very extreme case of mildew damage.
Colour Bleeding
When a combination of colours are used in a garment the darker colour can bleed into the lighter colour resulting in staining of lighter colour. In these cases we try hand cleaning first.
Exposure to Sunlight
Sunlight can fade dyed leathers, we can often respray to blend back original colour.
Colour Migration During Cleaning
Colour can also migrate when cleaning, leaving the garment streaky and patchy. At Leathersmiths we have with years of practice managed to mostly eliminate this problem.
Body Oils
Most common on dyed only leather suede, nubuck, analine. Once body oils have penetrated and darkened surface we are unable to clean "as new". Collars tend to be the worst effected followed by cuffs. We have on occasion replaced collars on much loved jackets.
Leather Stains
If stains cannot be removed we can often recolour to make less noticeable. We are at least 90%successful at removing pen marks. Any fatty products such as oils or creams can be impossible to remove.
Leather Recolouring
It is standard practice to recolour or at least relacquer all garments, as a result pigment finished leathers often come out like new. If aged look is preferred a clear topcoat can be used. Pigmented leathers can have colour changed starting price for jacket $120.
Cleaning Price List
Jackets $75
Dresses $45
Skirts $35
Pants $40
Waistcoats/Vests/Combination Jackets $40
Prices may vary due to ease or difficulty.
We also clean fur.
Shoes can be couriered to Leathersmiths and returned by courier. Please include your address details and contact number with your package. Include specific instructions about what you would like done.