Leather Furniture Repair
Leather is a material created through the tanning of hides and skins of animals, primarily cattlehide. The tanning process converts the putrescible skin into a durable, long-lasting and versatile natural material for various uses.
Tanned Leather
Like most leather articles chrome tanned leather is used in furniture, these days however a cow skin can be split into 2 or 3 and the lower split leather is used with an artificial grain making leather quality harder to recognise where as in the past only the top grain leather was used.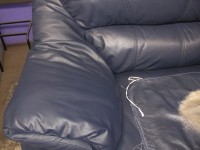 Both seats had faded and stained. So darkening to original covers stains and protects leather surface.
The seating areas followed by arm rest areas are the first to wear or suffer perspiration damage.
On high backed seats the head rest can also suffer from perspiration damage. On older suites where full-grain has been used it is well worth replacing the damaged leather with new leather then recolouring entire suite to as new. As featured in the image to the right.
Chesterfield Furniture
On chesterfield type seats it is possible to replace leather between buttoned areas, saving on materials and time if pigment base is secure, which in most cases it is. It is not very expensive to respray an antique effect coat and clear lacquer.
Light Coloured Leather Seats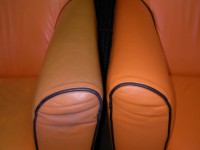 Light coloured seats are hard to maintain as they get older and crease, soiling builds up and cleaning is labour intensive. Which over time breaks down protective lacquer then pigments. With all pigmented leathers it is possible to clean and recolour back to original and replace any damaged panels. On lighter colours I recommend recolouring to a dark as possible colour but the choice is yours. Recolouring will increase life expectancy of leather and make an older couch look modern. Interior designers often use our recolouring service to change colour of seating to match decor.
Aniline Leather Seats
Most full grain leathers these days are oiled and waxed no pigment is used. Which makes a beautiful looking finished leather. This leather type is known as aniline. These leather types do age quicker than pigmented leather as there is no protective surface from sunlight which can cause rapid fading and the wax topcoat soon breaks down exposing surface to perspiration damage and staining. Luckily the aged look is desirable to a point.
We are unable to put a pigmented finish on these leather types as the remaining wax and oil stop the pigmented finish from 'keying in' and because the leather was chosen because of its natural look in the first place, a pigmented finish looks dull in comparison. The solution is to redye the leather, this generally disguises the stains simply by darkening the colour and a sealing topcoat protects and enriches colour. It should be noted however that sunlight can also dry leather and no amount of conditioning once dry will soften leather to original. While more difficult to colour match we can also replace damaged panels if needed.
Other Restoration Projects